A more relaxed presentation of myself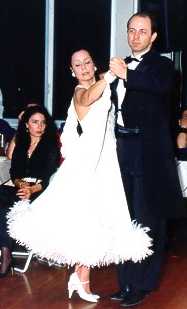 As you can see from the picture on the right, I start this presentation with my hobbies (I work as an Internet business applications consultant, but you can read about my job later in this page). My favorite hobby is dance. I love every kind of dance. Till few years ago, I used to do a lot of Greek traditional dancing (participating in festivals, ceremonies etc.) but now I have concentrated my efforts on ballroom. I do a lot of american style smooth (fox trot, slow waltz, tango, viennese waltz) but I am also very fond of latin dances (cha-cha, mambo, rumba, jive, samba). In the picture you can see me dancing with my teacher (Ms Lena Metalinou from Interdance dance studio) at a competition organized by the Hellenic Association of Dance Teachers (May 9 1998).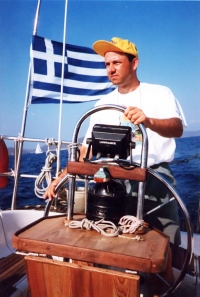 Another thing I like very much to do is sailing. I am not an experienced sailor (dancing takes up most of my free time) but I have completed successfully my sailing courses and I have a diploma for open shore sailing. However I prefer sailing with a dinghy (Laser 16 is my favorite). These ships are not as impressive as the big ones but they make you feel more as part of the sea. They are more difficult to operate than the big ones (I know non sailors will not believe that but it is true), forgive fewer mistakes and demand excellent reflexes. Regrettably I have no Laser 16 photos so I am using here one from a recent voyage to the Greek islands.

The internet is something I still consider as a hobby. I started studying the business uses of the net in 1993 and made this my profession in 1996 (currently I work at the internet department of Alpha TV station, and I am in charge of the station's Internet sevices). However, I continue to see this as a hobby, more or less in the same way that a dancer has a profession which is also his/hers' favorite past time.
I believe that even if you do not plan to make money on the net, there are a lot of things one can gain by studying it. You keep encountering new situations that help you understand how people think, what they want, how well the rest of the world works and what you can do to change this inside or outside cyberspace. During my years of studying the internet I have encountered many interesting questions and dilemmas. I have been forced to change a lot of my beliefs, philosophies and convictions. Thus I became a much more mature and knowledgeable person. I look forward to what studying the net will do for me in the future.
Other things I like to study are:
History

I prefer Greek history but I like to read analysis and facts about every place or period. If you find anything interesting just let me know.

Media Criticism

I never cease to be amazed by broadcast media's belief that all people are essentialy the same and therefore will be happy to receive exactly the same content as their neighbour.

Thank god, this is not the case and using the Internet as an information medium can make a difference.

If you are interested in media criticism you can learn a lot about this and many other subjects from a site called Transparency. Give it a try and you will not regret it.
Giorgos Epitidios © 2000
---

Back to my home page